US News
Michigan resident warns of Chinese-owned battery factory: 'We see the writing on the wall'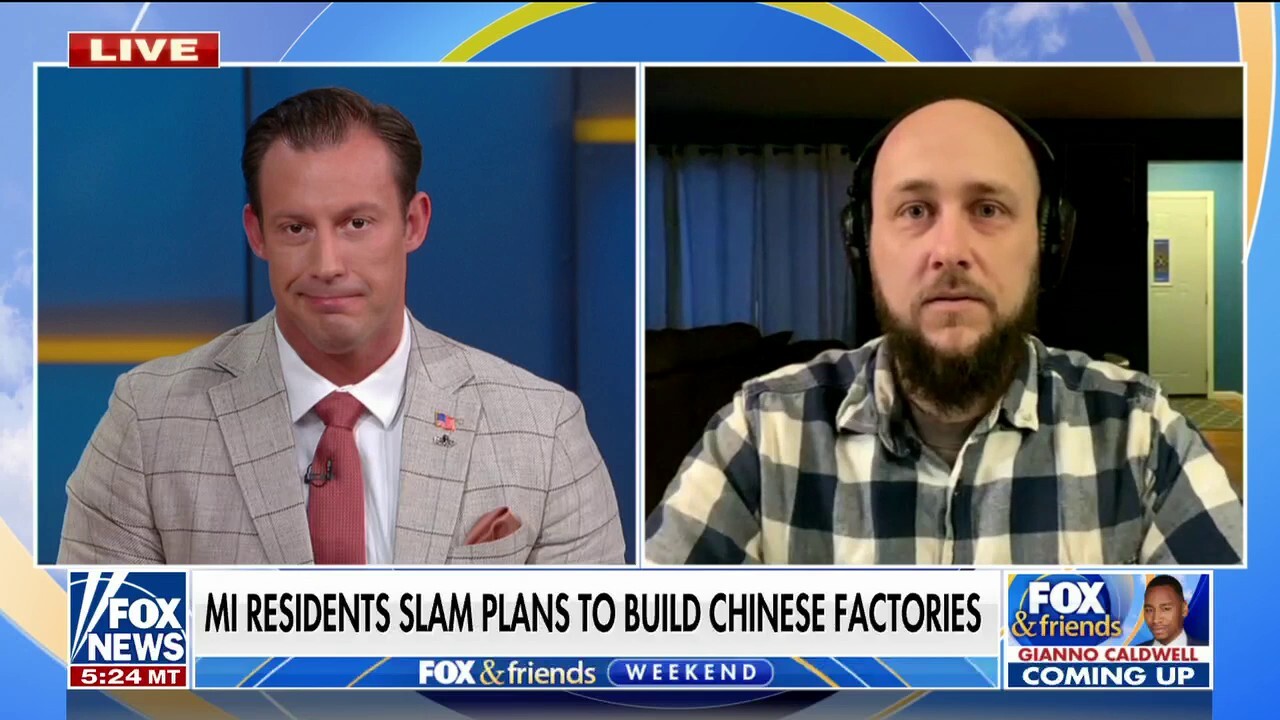 One Michigan resident He issued a stark warning against building Chinese-owned battery factories, arguing that local communities see "the writing on the wall" amid growing national security concerns.
Big Rapids resident Matthew Makczynski, also an Iraq War veteran, joins.Fox and Friends WeekendTo discuss the reasons why residents reject plans to build factories for the Chinese-owned company Gotion Global.
"I have no idea," Maczynski said Joy Jones saidWhen asked if the state would stand against the construction. "I know what I would like to say, but I don't know how true it is. A lot of people who are down to earth… I think we all see the writing on the wall."
Warnings of Chinese companies operating in the field of US soil former candidates at the level of governments
Footage posted to Twitter by The Midwesterner showed more than 100 people, from Big Rapids and Green Charter Township, gathered to respond to the Gotion building project last week.
Maczynski was among the residents who attended a Green Charter Town board meeting to protest the decision.
"This is a Chinese-owned company," Makczynski said during the meeting. "A Chinese-owned company is a communist company. Why bring a communist company to Big Rapids, Michigan when we have troops massing right now to fight China?"
Michigan lawmakers agreed $585 million funding from the state to build the plant, along with two others, to produce electric vehicle batteries.
Biden's energy secretary with a China-related group of gases banned in the United States
Construction of the plant was approved by the state Economic Development Board and was originally intended to be built on land in both Big Rapids and Green Charter Township.
But last month, Gotion halted planned construction in Big Rapids after the city council voted unanimously days earlier to request a federal review of any potential national security risks associated with the presence of a Chinese-owned company in the area, according to a report by Detroit News.
Machinsky criticized the politicians for complicity in the construction, stating that they "have no idea what they're talking about".
"We have a problem that China is moving in here and there's nothing we can do about it," Makczynski said. "Our employees who are supposed to take care of us are not doing their due diligence in terms of considering what all this entails."
Click here for the FOX NEWS app
He also cited economic concerns, stating that Michiganders would have to foot the construction bill.
And although some residents support the plans for jobs that would add to the labor market, Machinsky expressed concern about the profits, which could Ultimately in favor of Beijing.
"My problem is that the profits won't stay even here in America," said Makczynski. "They go to China. They just use us as labor, and … Michigan taxpayers have to pay $700 million to build this thing, and they get 30 years tax-free of it."
Fox News' Brandon Gillespie contributed to this report.